The Landi Company Ltd offers a full range of textile conservation services for the individual client, large institutions and for anything in between.
The objects handled include tapestries, embroideries (from samplers to wall hangings), costume and costume accessories, upholstered furniture and chair covers, window curtains, pelmets and the textile parts of state beds, altar frontals and other ecclesiastical vestments, lace and white-work, painted textiles and banners, and any number of odd or interesting objects that include a textile in its construction.
As an off-shoot of its commercial activity the Company has also hosted many students on placement from university courses and on voluntary work experience.
The managing director is a Fellow of IIC (International Institute of Conservation of Historic and Artistic Works), a member of Icon, an accredited member of BAFRA as Textile Specialist and appears on the Conservation Register operated by Icon (Institute for Conservation).
CONDITION ASSESSMENTS AND SURVEYS

Condition assessments and surveys can be conducted on site, or in the workshop, as appropriate, on individual objects and collections. We can then recommend appropriate treatments alongside detailed estimates. We also provide advice regarding funding applications for conservation projects.
INTERVENTIVE CONSERVATION
All items are fully documented and photographed, in keeping with professional standards. Treatments include cleaning, consolidation, and stabilisation and we have facilities on site for large scale wet cleaning.
COLLECTIONS CARE AND MANAGEMENT

We offer a tailored collections care and management service upon request. This includes site visits and surveys, detailed reports, storage solutions, and staff training. Advice and preparation on transport for textiles, with a focus on large-scale textiles, is also available.
INTEGRATED PEST MANAGEMENT (IPM)
The Landi Company has extensive experience in IPM and can provide consultation and treatment plans against textile pests, such as webbing clothes moths and carpet beetles.
DISPLAY AND PREPARATION FOR MOUNTING AND STORAGE
We offer bespoke mounting solutions for textiles and costumes, as well as advice on display conditions.
PREVENTIVE CONSERVATION
Environmental factors, including RH, temperature, light, and pollution, can be incredibly damaging to textiles. We offer a preventive conservation service which monitors and helps to mitigate these factors. Storage, pest control, and display advice are also part of the preventive conservation service.
We can provide emergency help in the case of fire, flood, or infestation, within a 30 mile radius of Burghley House.
Regimental Colours & Green Tigers
Conserving Regimental Colours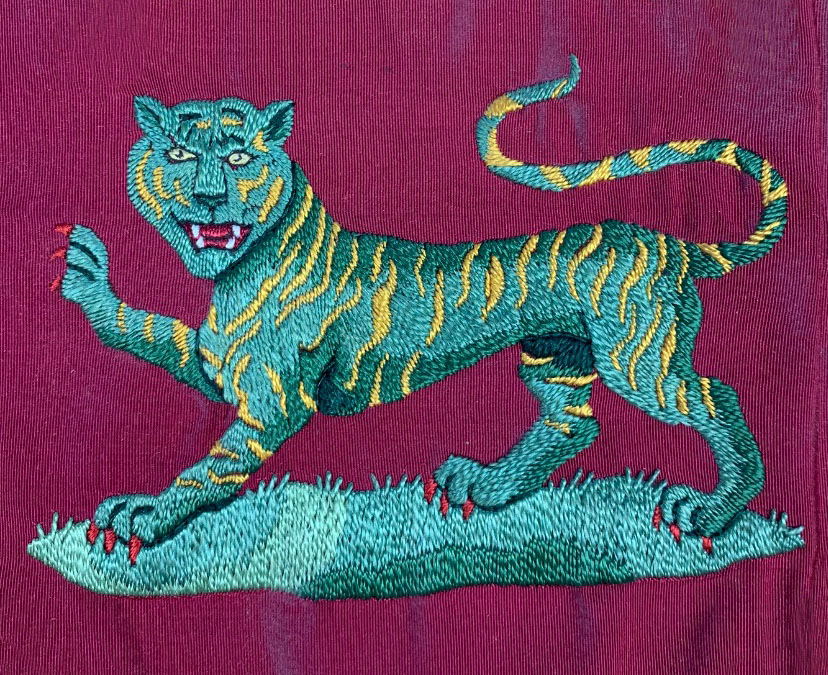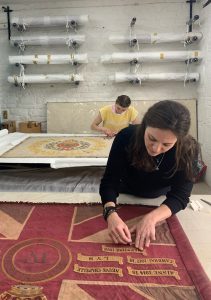 Our next sizeable project for 2022/2023 is a collection of military colours belonging to the Royal Leicestershire Regiment, (merged into the Royal Anglian Regiment in 1964). The colours usually hang in the Regimental Chapel in Leicester Cathedral but the opportunity has been taken to conserve them while the cathedral is closed for significant work. Having consulted with the regiment to discern their wishes we made recommendations for the full collection. All of the colours need different levels of conservation, but every one of them needs a really good clean! The wonderful green tigers that feature in the regimental colours have given Leicester Rugby Club the nickname of 'The Tigers' since 1885. We look forward to ensuring the banners and their tigers are conserved for future generations.
The Dark Nursery, Burghley House
Textile Storage Evaluation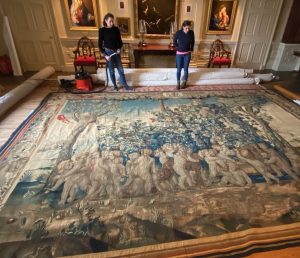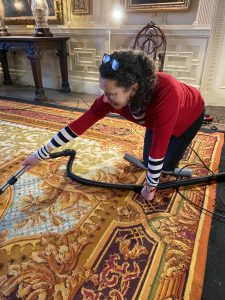 In 2022 as well as the usual spring housekeeping for Burghley House we have just undertaken a condition check and storage re-evaluation in the aptly named Dark Nursery. The Dark Nursery is a store for furniture and items not on display in the house including a good number of tapestries and rugs. This turned out to be a huge task as we decided to relocate the tapestry shelving to make it more accessible. Following this, the extensive collection of tapestries and rugs was examined and each piece vacuumed both sides before being treated for moths where applicable. All the objects were re-rolled, wrapped and labelled, and an inventory and report was prepared for the house. Not only is it gratifying to feel that the textiles are well stored, it was a wonderful opportunity to get to know the collection more fully.
Fibre and Form at St. Albans Museum
Condition Checking Large-Scale Textile Installations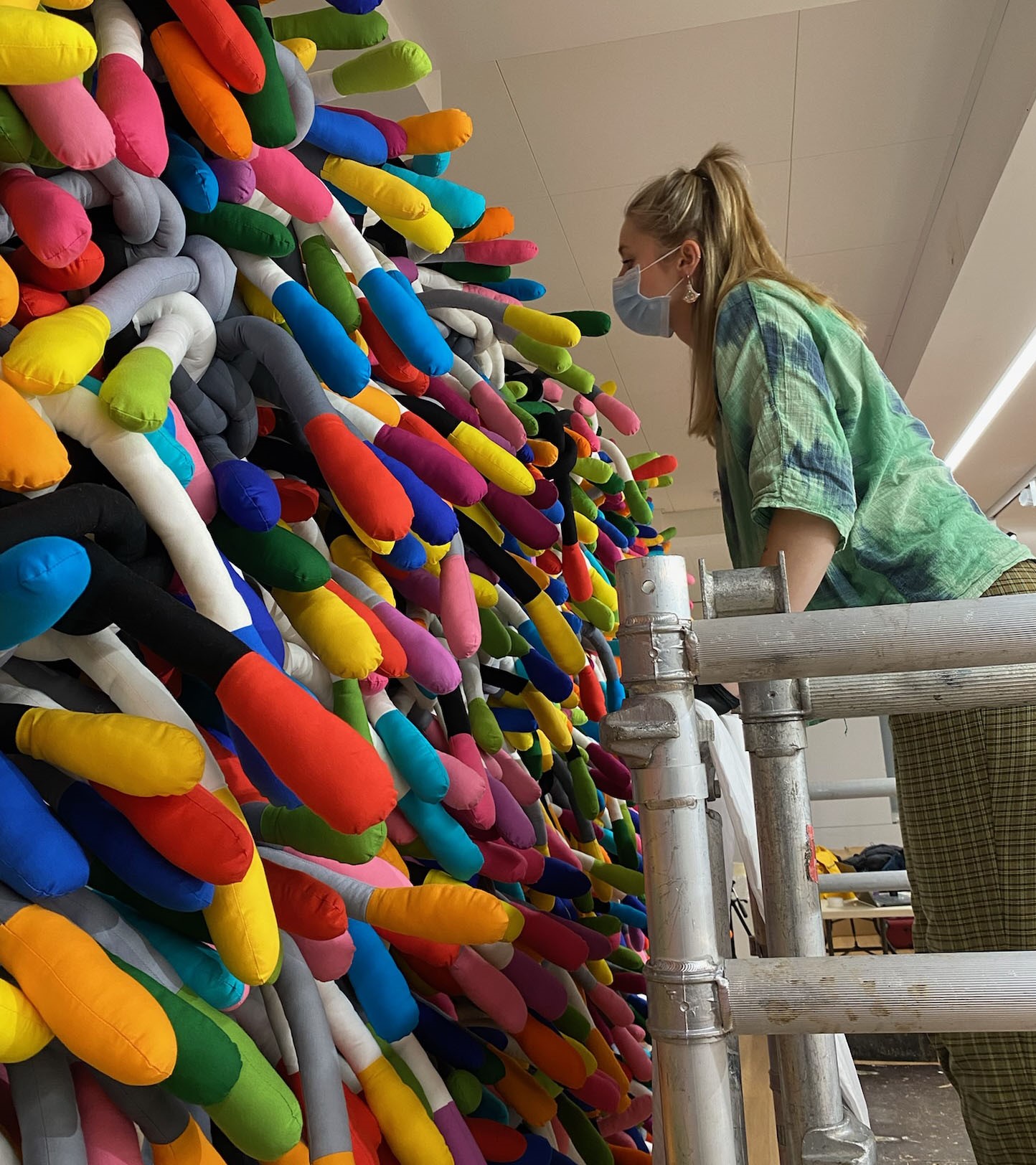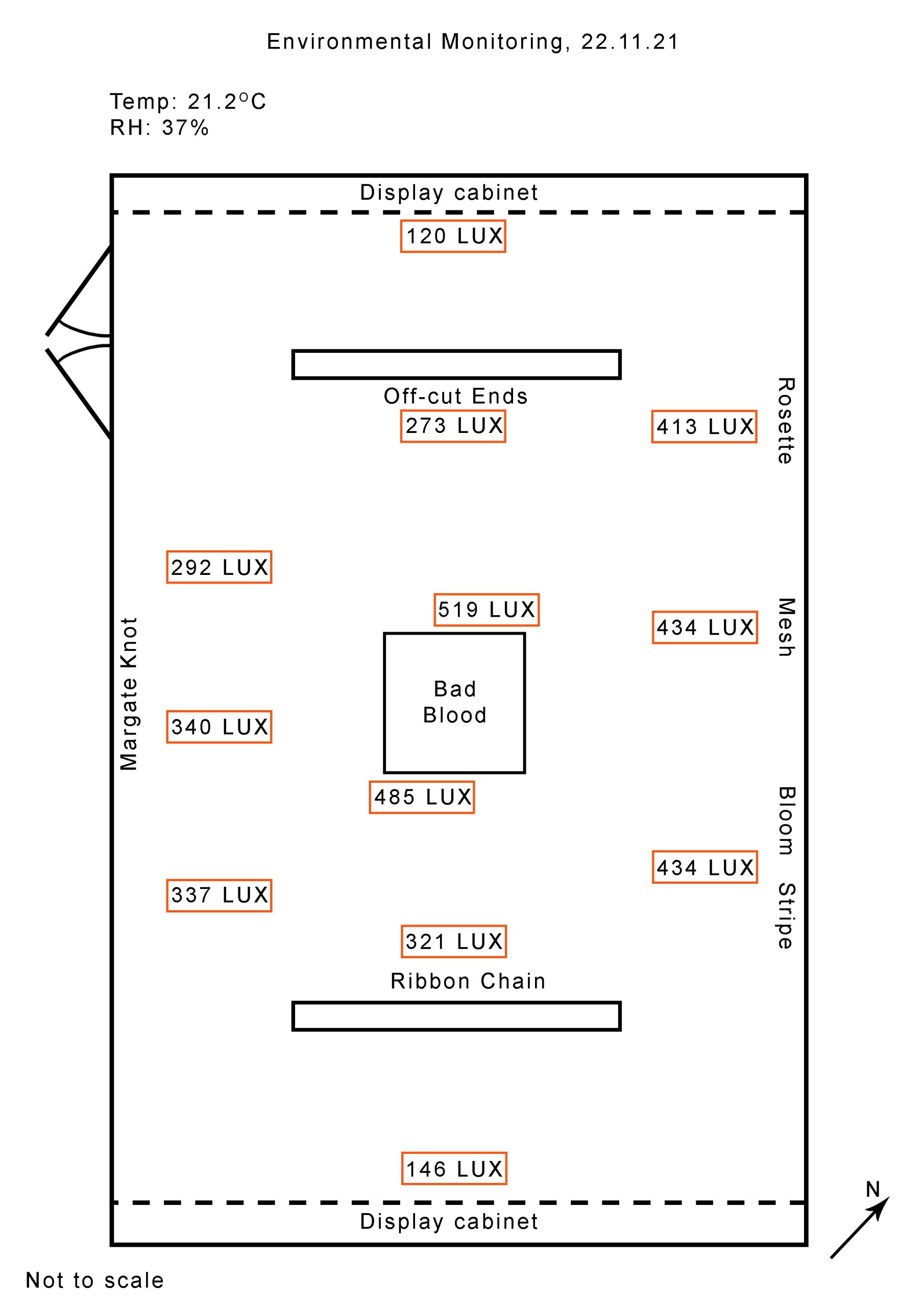 November 2021 saw us in St Albans Museum condition checking the art works for artist Anna Ray's wonderful Fibre and Form exhibition. We were lucky enough to work alongside Anna during the instalment, meticulously checking the condition of each piece and subsequently producing an extensive report for the museum.
Acis and Galatea, Gobelins Tapestry
Interventive Conservation of a Late 17th Century Tapestry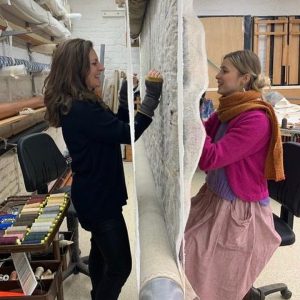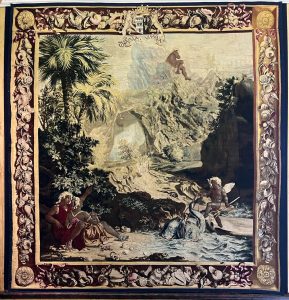 The top galloon was severely damaged, and the right-side border was rewoven. The tapestry was the incorrect size for the frame, resulting in the top corners overhanging. Intermediary conservation carried out in 2020/21 allowed the tapestry to hang more sympathetically for the 2021 house opening, however full conservation was required for longevity.
The tapestry was washed in our workshop, before being worked on an upright loom. A polypropylene support was attached to the reverse via a grid system before conservation stitching could be carried out. Following consolidation, a cotton sateen lining was applied and the tapestry was rehung using Velcro along the top and the sides.